---
Enrollment for the Fall 2016 semester is now open! For more information about the career major programs, click here!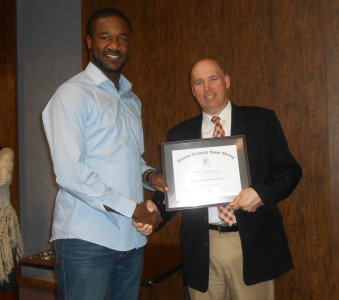 NWTC Alva NTHS Induction
---
NWTC, Alva campus held the annual National Technical Honor Society Induction for new members Monday, February 22, 2016.  62 new and second year members were pinned. Very excited for each student on this academic accomplishment! Photo album is located on the NWTC Facebook page of the NTHS Induction.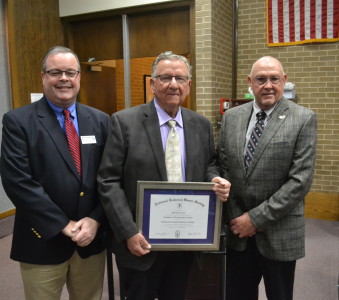 Recognition of Honorary Member
---
Mr. Merlin Freed, assistant superintendent of the NWTC Fairview campus from 1971 – 1986, was recognized as the Honorary Member of the National Technical Honor Society Wednesday, march 2, 2016.  He was the first assistant superintended for the Fairview campus. He worked out of an office in the old Hotel downtown Fairview until the current building was completed. He was instrumental in hiring staff, establishing programs, and communicating with sending districts to determine the needs of the communities in order to establish the initial programs at what was then known as the Oklahoma Northwest Vocational Technology Center, District 10. We would like to thank him for his contributions to Northwest Technology Center and the surrounding communities.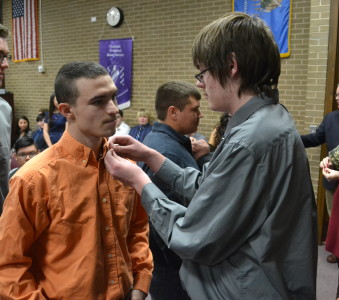 NWTC Fairview NTHS Induction
---
Thank you to all who supported the students' academic success at Northwest Technology Center, Fairview campus at the National Technical Honor Society Induction Ceremony 2016 held Wednesday, March 2, 2016! 55 new and second year students were pinned. Very proud of each and every student for this achievement!! Photo album of the NTHS ceremony is located on the NWTC Facebook page!

NWTC Advisory Committees
---
Thank you to all of our stakeholders who attended the NWTC Advisory Committee meetings on our Alva and Fairview campuses! Each career major program has an industry specific advisory committee consisting of local employers and business owners, students, parents, and public school educators who offer input on curriculum, equipment, facilities, etc. The BIS staff also utilizes advisory committees to gather data and suggestions on area training needs and customer satisfaction. Data from these advisory committees provide immediate and actionable information that assists NWTC with an innovative planning process. Listening to key stakeholder groups and learning from their input allows NWTC to determine specific training and educational needs. We appreciate your time and energy to help NWTC be its best!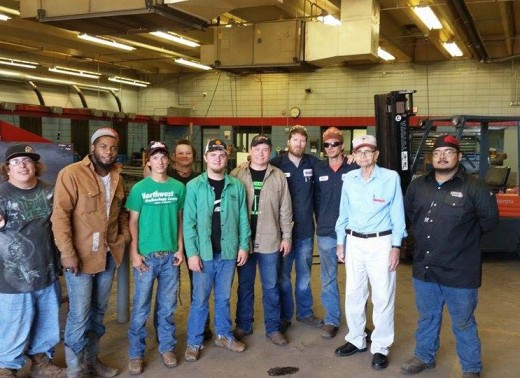 Industry Credentials
---
Industry certifications, credentials, and licensures are essential to the success of students in every workforce area. NWTC has established a goal that all career major students will earn at least one industry certification that has been aligned to the student's career major. Certifications include, but are not limited to: ASE, Department of Labor Welding, Health certifications and licensures, ProStart.
WorkKeys Credentials
---
The ACT WorkKeys Assessment is administered to all full time students attending NWTC.  Results from WorkKeys scores are utilized to assess student performance, strengths, and validate student skills relating to industry standards.  NWTC utilizes the skill standards for Reading for Information, Locating Information and Applied Mathematics to measure and provide a baseline of data reflecting career readiness in core skills deemed critical for job success.
State Bound in CTSO's!
---
NWTC Fairview:
Biomedical Sciences Regional placings and awards: 
Shanna Lamle – 1st in Medical and Health, the Mu Alpha Theta award and a scholarship for $1000.
April Kendrick -1st in Engineering, the US Naval Science Award, The Yale Science and Engineering award and scholarship for $1500.S
HOSA Day at the Capitol
---
Oklahoma Health Careers Education Teachers Association (OHCETA) sponsored Health Careers Day at our state Capitol February 17, 2016.  Nearly 300 students and instructors were in attendance.  Instructor for Northwest Technology Center's Health Careers Certification, Debra Button who is currently serving as president-elect for OHCETA, assisted with the organization of the event.
The students were given a packet of information pertaining to the legislative bills being heard that affected health care along with the process of the passing of a bill.  They were able to visit their legislators and discuss any issues or concerns and learn about their role in government.  Students also participated in a scavenger hunt to experience as much of our beautiful Capitol as possible.
Junior from Fairview High School Taylor Fitzsimmons stated, "I am actually intrigued by what they do now.  I had no idea they had such hectic schedules". Another NWTC student felt impacted by the days activities.  "I am eager to apply to Girls State so I can learn more about how the government works", shared Alisha Peterson, junior from Fairview High School.
pic 1.) Josie Scott OHCETA President, Rep. William Fourkiller-D & Debra Button OHCETA President-Elect
pic 2.) Rep. William Fourkiller-D speaking to 300+ HOSA students & advisors
pic 3.)  Taylor Fitzsimmons, Stephanie Madrid, Rep. Fourkiller, Lauren Goodson, Alisha Peterson, Ceairra Gulliford 
---